Sound and Literature Workshop in the Department of the University of Hyderabad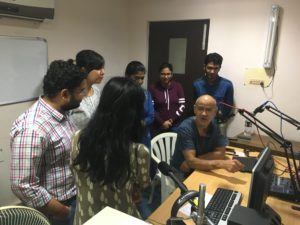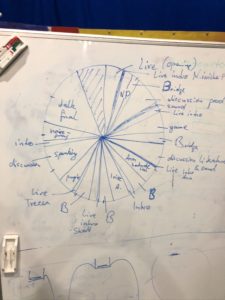 Dur­ing the begin­ning of Jan­u­ary 2020 we stepped into the audio-visu­al stu­dio of the Depart­ment of Com­mu­ni­ca­tion, Uni­ver­si­ty of Hyder­abad. Togeth­er with the MA Com­mu­ni­ca­tion stu­dents, most­ly from the first year, we have exchanged dif­fer­ent meth­ods of record­ing, assem­bling and text and sound for cre­ative pur­pos­es. Giv­en that our vis­it in the city was ini­ti­at­ed with the occa­sion of the Hyder­abad Lit­er­ary Fes­ti­val, to which we have also invit­ed the stu­dents to join, we focused the work­shop on reassem­bling text and images enhanced by lit­er­a­ture.
We have expe­ri­enced togeth­er some­thing which we called: mak­ing a text yours which prac­ti­cal­ly implies dif­fer­ent cre­ative process­es to turn text into sound and the oth­er way around.
On the last day of the work­shop we gath­ered in the stu­dio of Bol Hyder­abad, the cam­pus com­mu­ni­ty radio sta­tion of Uni­ver­si­ty of Hyder­abad where we have broad­cast­ed live for an hour. Live and in a semi struc­tured for­mat stu­dents could share fresh impres­sions on lis­ten­ing, using sound for com­mu­ni­ca­tion and the impor­tance of com­mu­ni­ty media in their prac­tice and learn­ing. They pre­sent­ed their pieces, intro­duced them­selves using their var­i­ous moth­er tongues which def­i­nite­ly got clos­er to a desired sit­u­a­tion for us: a radio instance where dif­fer­ent iden­ti­ties come togeth­er to freely express their most recent states of minds through lit­er­a­ture and sound mak­ing.
A few days lat­er, with some of the stu­dents we con­tin­ued our jour­ney through the state of Telan­gana to col­lect voice accounts, sto­ries and oral his­to­ries on local­i­ty, migra­tion, labour from peo­ple who would nor­mal­ly not reach a lit­er­ary fes­ti­val.
Most of the stu­dents, attract­ed by live radio pro­duc­tion, became Radio Mis­ch­poke mem­bers and active par­tic­i­pants dur­ing the three days of the fes­ti­val comb­ing their knowl­edge, spon­tane­ity, curios­i­ty and biog­ra­phy into mak­ing five hours of radio every day from the Vid­yaranya High School where the Hyder­abad Lit­er­ary Fes­ti­val was held this year.
Their works were avail­able on a lis­ten­ing sta­tion near the radio lob­by in the high school. Peo­ple could lis­ten to the sound pieces and direct­ly give their response to the authors of the works. One audi­ence mem­ber, an eng­lish teacher, shared his opin­ion over the radio.
Eng­lish teacher speak­ing about student's works in the mobile radio sit­u­a­tion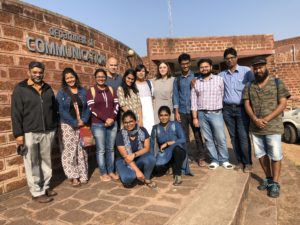 Spe­cial thanks to: Dr. Janard­han Rao Cheeli, Prof. Vin­od Pavar­ala, Dr. Usha Raman, Pro­fes­sor Kan­chan K. Malik and Naveen Sen.
The works of the Radio Mischpoke members during the workshop
Ananya Mukhopad­hyay: I rise
Nimisha S.Pradeep: The soli­tary Reaper by William Wordsworth
Rajam Sri Rohith: Lyri­cal Game
Satyam Shar­ma: Seren­i­ty
Treesa Reena: Join the colour pur­ple
Shru­ti Maithani: Beau­ty by choice
Experimental Radio as a method of self-expression and biographical rearrangement
Work­shop for the stu­dents of The Depart­ment of Com­mu­ni­ca­tion at the Uni­ver­si­ty of Hyder­abad
Dur­ing our stay in Hyder­abad, we invite stu­dents into a few work­ing days when we all exchange var­i­ous meth­ods of iden­ti­ty expres­sion through lit­er­a­ture, spo­ken or sung word, dif­fer­ent use of lan­guage with which we implic­it­ly exper­i­ment togeth­er var­i­ous forms of work­ing with sound. Prac­ti­cal knowl­edge such as dif­fer­ent meth­ods of record­ing, use of record­ings, cut­ting and mix­ing sounds would be cen­tral to the activ­i­ties and no pri­or knowl­edge required. The results to the work­shop would broad­cast at BOL Hyder­abad, via Radio Mis­ch­poke. For the fes­ti­val, stu­dents who par­tic­i­pat­ed in the work­shop, are invit­ed to join us to soni­fy the inner and out­er life by record­ing and cut­ting and active­ly par­tic­i­pat­ing in the dai­ly pro­gram meant to cre­ate a wider reach-out for the ideas and texts pre­sent­ed in the fes­ti­val. Stu­dents who have an inter­est in any kind of jour­nal­ism and com­mu­ni­ca­tion sci­ences, are invit­ed to join this work­shop exchange pro­gram by inter­est and with­out hav­ing any pre­vi­ous manda­to­ry knowl­edge. The workshop's main aim is to under­line the usage of com­mu­ni­ca­tion in art, art as com­mu­ni­ca­tion and art as free self-expres­sion and to widen the hori­zon for cre­ative approach­es of media usage.
Results of the workshop with students in 2017
This is an assign­ment done in 2017 togeth­er with stu­dents of the The Depart­ment of Com­mu­ni­ca­tion at the Uni­ver­si­ty of Hyder­abad . Dur­ing this two days work­shop, stu­dents have been work­ing on a son­ic and visu­al rep­re­sen­ta­tion of their iden­ti­ties using an image of their pref­er­ence and a piece of lit­er­a­ture that they felt it res­onat­ed with their present moment.