Exploring the surroundings of Telangana
Dur­ing our stay in Hyder­abad, we went on day-trips to Yel­goi Vil­lage, Pastapur Vil­lage, Akutho­ta­pal­ly, Majeed­pur, Naregu­da to look for oral lit­er­a­ture. We went to the province of Telan­gana to col­lect sto­ries in a very free-form and curios­i­ty dri­ven man­ner. We sim­ply asked peo­ple for dif­fer­ent forms of lit­er­a­ture, quest which trans­formed con­tin­u­ous­ly through­out our search. For every indi­vid­ual or group we have inter­act­ed with, lit­er­a­ture meant some­thing else. Often lit­er­a­ture did not mean any­thing. But for most of them — Songs, life sto­ries, tales of migra­tion, of labor, resources, agri­cul­ture or dif­fer­ent accounts on a desire or obser­va­tion of active changes in soci­ety.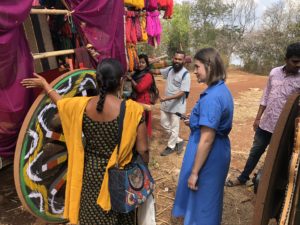 We start­ed our jour­ney pay­ing a vis­it to the Sang­ham radio mak­er Gen­er­al Narsam­ma who shared with us songs and record­ings of the reg­u­lar pro­gram of the Radio. Sang­ham Radio is a unique com­mu­ni­ty radio run by Dalit women. Orig­i­nat­ing from self- help groups and gath­ered under the umbrel­la of the Dec­can Devel­op­ment Soci­ety (DDS) NGO, this radio is one of the activ­i­ties women of the region are pre­oc­cu­pied with. Between 1998–2008 Sang­ham Com­mu­ni­ty Radio wait­ed to get a licence, but still pro­duced audio mate­r­i­al. From 2008 to now, the the first all-women com­mu­ni­ty radio in Asia is broad­cast­ing in the vil­lages around between 7 and 9pm every day songs, dia­logues, gos­sips on their con­cerns which cov­er from bio­di­ver­si­ty, seed sov­er­eign­ty, organ­ic farm­ing, to tra­di­tion­al cul­ture.
Through­out the three days of the radio we played their songs. Peo­ple stopped curi­ous to know how come us as two vis­i­tors from Europe, have access and inter­est in such music. We did exper­i­ments ask­ing peo­ple to repro­duce what they hear in the beau­ti­ful songs from one of the 200 vil­lages the Gen­er­al and her col­leagues are gath­er­ing music from Mach­noor Vil­lage.
Dur­ing our vis­it in the Dec­can Devel­op­ment Soci­ety (DDS), the Gen­er­al intro­duced us to a group of sto­ry­tellers whose trav­el around telling sto­ries for mon­ey or good. They per­formed a sto­ry with­out instru­ments, which was a total excep­tion for them.
Group sto­ry-tellers in Pastapur Vil­lage
Every­one told us: you are so lucky to catch the har­vest­ing sea­son. We wit­nessed the car­a­vans with the local seeds, the drum­mers and the fan­cy gar­ments of peo­ple and bulls. Nada and Senan­da were there in front of one of the places where vil­lagers would dine togeth­er. In sync, they shared with us a beau­ti­ful song about cot­ton.
Nada and Senan­da in Yel­goi Vil­lage
Apart from being played dur­ing the live radio sit­u­a­tion, the record­ings accom­pa­nied by a por­trait, were audi­ble at the Hyder­abad Lit­er­ary Fes­ti­val togeth­er with the works done by the stu­dents dur­ing the work­shop in the uni­ver­si­ty.
Rufus Gurugul­la togeth­er with many mem­bers of the com­mu­ni­ty, wel­comed us in the Akutho­ta­pal­ly where we have spent the evening, talk­ing singing and danc­ing, strolling through a vil­lage like we have nev­er seen before. The hos­pi­tal­i­ty and joy of the peo­ple we met in Akutho­ta­pal­ly was rep­re­sent­ed in the fes­ti­val by two musi­cal instances from a group of young girls who want­ed to share togeth­er a song they learned in a sum­mer camp, and the Ramachan­dra who has music embed­ded in her body.
Cha­lan­ti, Man­asa, Ishi­ta, Man­isha Shilpa Jes­si­ca in Akutho­ta­pal­ly
Ramachan­dra in Akutho­ta­pal­ly
Apart from being a pas­tor, Rufus Gurugul­la is a visu­al artist work­ing with dif­fer­ent seeds and pho­tog­ra­phy. We short­ly vis­it­ed his gallery in Hyder­abad where we talked about com­mu­ni­ty and browsed through one of his pho­to books from dif­fer­ent vil­lages in Telan­gana.
Rufus Gurugul­la in Hyder­abad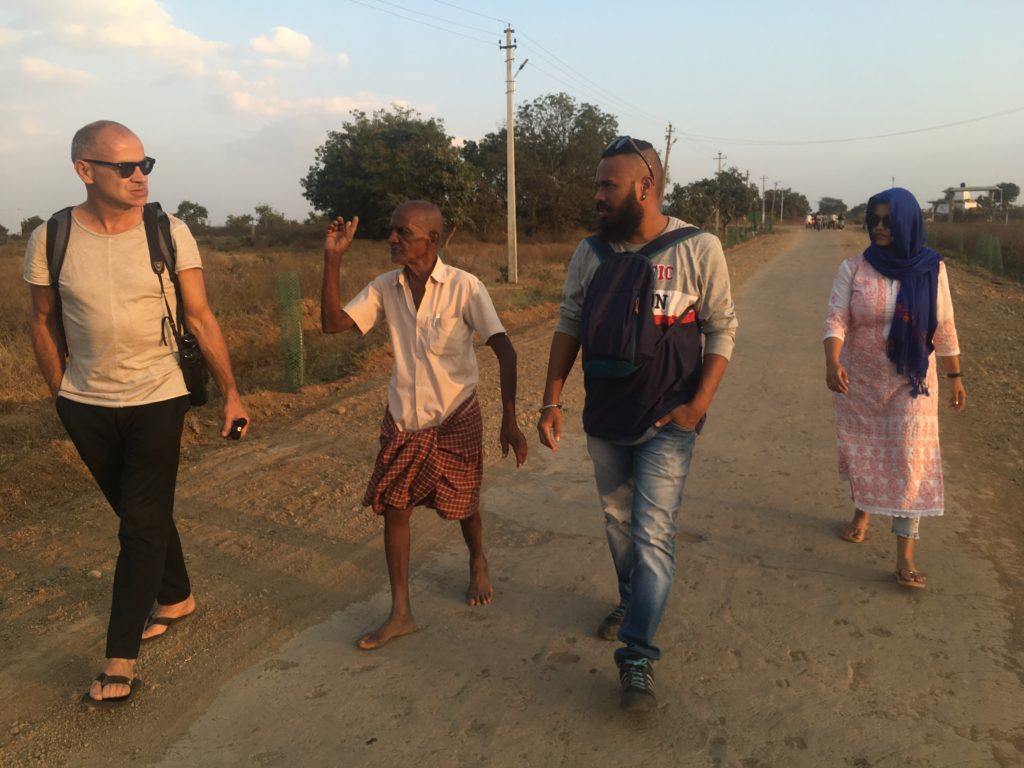 With Vaishalee and Chan­du in Naregu­da
On one of our remark­able trips, we met Venka­ta Narayana. He lives in Naregu­da Vil­lage and worked all his life as a tai­lor. We got sur­round­ed with the curi­ous young men of the vil­lage while Venka­ta Narayana was lead­ing us to his home where he told one of those hard to hear labour sto­ries that lat­er Vaishalee and Parve­da Chan­du trans­lat­ed for us.
Venka­ta Narayana in Naregu­da Vil­lage
Near the bus sta­tion which car­ries work­ers and pupils from one vil­lage to the oth­er, Sathya Narayana shared a mut­ton recipe straight from the counter to his shop. Lat­er we find out peo­ple trav­el some­times to Naregu­da espe­cial­ly for his prod­ucts.
Sathya Narayana in Naregu­da Vil­lage
We went back to the fes­ti­val with these voic­es and thought about how dif­fi­cult it was (with trans­la­tion) to ask peo­ple for their lit­er­a­ture accounts. What else is lit­er­a­ture we per­ma­nent­ly asked in the three days of radio. Prob­a­bly the lim­its to lit­er­a­ture are the lim­its to life itself.
Spe­cial thanks: HLF 2020 Organ­i­sa­tion team and direc­tors, Dr. Janard­han Rao Cheeli, Vaishalee Das and Parve­da Chan­dra Kiran, Rufus Gurugul­la, Ms. Usha.